Bronwyn Knight, CEO of Grit Group, explains why the Pan-African real estate investment major considers Mauritius the de-facto regional real estate hub, so much so that Grit now has its head office in Grand Baie and is listed on the Stock Exchange of Mauritius.
For the way forward, she notes that the real estate player is focusing on investments in very specific sub asset classes, including logistics & warehousing, embassy accommodation, select commercial offices, datacentres and healthcare that are considered future proof and are on the upswing in a post-COVID context.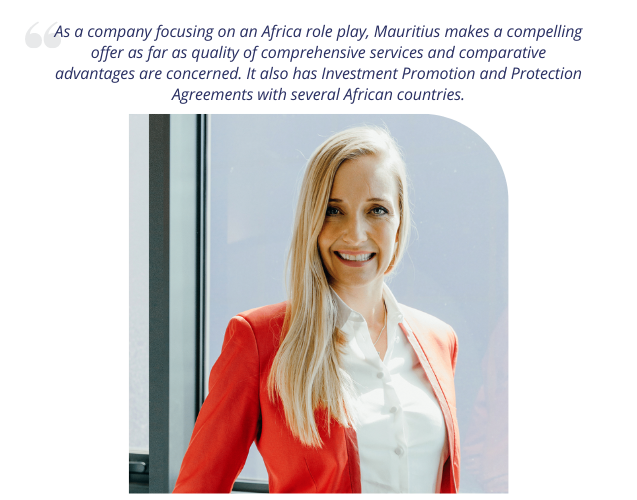 First of all, could you tell us more about the significant US$215 million capital raise by way of an open offer that is expected to fundamentally reposition the group? As a company which currently holds a primary listing on the Main Market of the London Stock Exchange and a secondary listing on the Official Market of the Stock Exchange of Mauritius Ltd, how do you see your portfolio progressing in Mauritius in particular?
Prior to the open offer, we took significant actions to strengthen our balance sheet during the pandemic. These efforts resulted in the cash collection of contractual revenue continuing strong and indeed, improving, with encouraging early signs of recovery in the leisure and retail sectors.
Proceeds from our proposed open offer and placing of new shares with current and new investors reduced group debt by US$47.0 million. In addition, the share issuance provides future capital for further expansion of our core and expanding business, enabling the acquisition of major stakes in Gateway Real Estate Africa ("GREA") and Africa Property Managers Limited ("APDM")."
In Mauritius, we were encouraged to see strong government support for the hospitality sector through the Mauritian Investment Corporation, including liquidity support, which in turn allowed for the resumption of lease repayments. All hospitality sector tenants have resumed lease payments in full as from December 2021. Our expectation is that recovery will be further bolstered by strong international tourism inflows as travel restrictions normalise.
Going forward, our focus will be on very specific sub asset classes, including logistics & warehousing, embassy accommodation, select commercial offices, data centres and healthcare. At the same time, we will continue to recycle assets, with a target of disposing of 20% of the value of our property portfolio by 31 December 2023 at, or close to reported book value.
As part of the capital recycling strategy, we recently announced the sale of ABSA House in Port Louis. Proceeds from disposals will be used alongside NAV accretive acquisition opportunities to reduce debt to within our targeted medium-term range of between 35% and 40%.
In addition to our hospitality investments leased to blue-chip tenants including Lux and Beachcomber, we see our portfolio on the island diversify through our investment in GREA, into healthcare, as well as the 10,000m2 The Precinct commercial office development in Grand Baie.
Could you specifically comment on how the acquisition of a controlling stake in Mauritian-based African real estate development specialist Gateway Real Estate Africa (GREA) and its management company is expected to further develop the group's footprint, in addition to entrenching Grit's commitment to Mauritius?
The acquisition of Gateway Real Estate Africa ("GREA") and its asset manager gives us access to a highly experienced team of development professionals in a sector with high barriers to entry and a business model that is difficult to replicate.
In terms of the transaction concluded on 20 April 2022, Grit's acquisition of a 78% stake in APDM provides us significant influence over GREA operations by virtue of the management contract. GREA's management will also be converted to Grit's Long-term Incentive Scheme to align interests. Following the transaction, Grit now holds just over 26% of GREA with a clear roadmap to acquiring a controlling stake by December 2022.
GREA's investment pipeline offers strong potential for significant capital growth as they are higher-yielding, pre-let and fully funded development assets with no speculative development.
GREA is further de-risked in that it doesn't hold any land bank and construction risk is materially transferred to professional construction partners through fixed price or turnkey contracts.
The acquisition will provide Grit with access to de-risked infrastructure-type assets worth over US$1 billion, in future-proof sub-sectors, including:
Light industrial and logistics warehouses
Data centres
Embassy accommodation
In addition, the acquisition of a controlling interest in APDM is expected to further allow Grit to earn substantial development and asset management fees into the future from internal and third-party clients and joint venture partners.
We believe Mauritius offers attractive growth prospects, especially in specialist real estate sub-sectors. The development of The Precinct, a 10,000 sqm state-of-the-art mixed use office development in Grand Baie, is a good example. The development not only incorporates best practice in terms of sustainability and greening, but offers flexible business solutions that accommodate large businesses and individuals who don't want to work from home, all in an integrated setting with boardrooms, the best in technology, restaurants and retail shops available.
Another example is GREA's US$54 million development of the St Helene Artemis hospital in Curepipe and a pipeline development comprising a 135-bed Oncology unit in Coromandel.
The emergence of these new real estate sub-sectors provides an ideal opportunity for economies such as Mauritius to diversify its mainly tourism dependent economy. The current development of world class specialist healthcare facilities on the island provides an ideal opportunity to position Mauritius as a regional medical hub, which can easily be combined with medical tourism.
How do you see the role of Mauritius as an investment hub for Africa, from a Grit Group perspective?
As a company focusing on an Africa role play, Mauritius makes a compelling offer as far as quality of comprehensive services and comparative advantages are concerned. It also has Investment Promotion and Protection Agreements with several African countries.
These were some of our main considerations before we established our head office in Grand Baie and moved our listing to the SEM.
Mauritius has an excellent legal framework and the Privy Council adds further credence to an independent judiciary – an important consideration for a foreign investor.
The talent pool available in the country and the quality of its high calibre professionals make Mauritius a unique platform for our African ventures.
These qualities attract both corporates and countries with an interest in Africa, such as India, China and Hong Kong, positioning Mauritius as a gateway into the continent.
As we shall continue to expand our African footprint, we shall continue to raise capital. Mauritius is well poised as it hosts a large number of world class banks and with its attraction for global business, it has attracted a large number of funds which are Africa-centric, rendering fundraising more attractive.
The Mauritius Board of Investment is doing sterling work in promoting the ease of doing business in the country and connecting foreign investment capital with local opportunities.
Moving to a wider overview of your African footprint, Grit's website notes that the company's portfolio is differentiated through diversification across geographies and asset classes, including hospitality, retail, corporate offices, corporate accommodation and light industrial assets across Senegal, Morocco, Mauritius, Mozambique, Botswana, Kenya, and Ghana. Where does Grit see opportunities in a post-COVID context?
Grit's portfolio currently comprises a total of 54 investments, across eight African countries and five asset classes. Our office, light industrial and corporate accommodation sector assets, comprising more than 50% by value of the Group's property portfolio, remain robust and resilient and relatively unaffected by the pandemic.
We believe that going forward, new emerging real estate sub asset classes such as healthcare, digital infrastructure and innovative transactions will offer increased diversification opportunities for listed real estate, whilst at the same time supporting growth in the region of operation.
We believe that the expected exponential growth in data consumption will stimulate demand for digital infrastructure such as datacentres and towers across the continent. From a return-on-investment perspective, the construction of digital infrastructure is much quicker and considerably less capital intensive than with more traditional asset classes such as shopping centres or commercial offices. The rising demand for digital infrastructure assets has also changed its risk profile due to long-term contracts with investment grade tenants. This annuity income, together with the potential for higher yield, lower volatility and generally low correlations make investment in digital infrastructure an attractive diversification strategy.
We see sale-and-leaseback transactions as a third emerging listed real estate opportunity across Africa. These transactions allow large corporates to move their real estate assets off balance sheet by disposing of them to a specialist landlord and leasing the asset back at market related rates. Sale-and-leaseback transactions provide a significant cash injection to the corporate which is often used for expansion and are often linked to significant refurbishments or upgrades implemented by the new landlord.
How is Grit positioned to take advantage of such opportunities, in specific segments and economies, over the coming year?
We have implemented decisive initiatives to defend and grow our position and safeguard the business in order to deliver enhanced stakeholder value over the short and long term. With our expertise in African real estate, and our team's experience, knowledge, skill sets and relationships in various regions, we will continue to optimise assets and create value through proactive asset management and risk-mitigated development opportunities to support NAV growth.
Finally, are there any other plans in the way forward, especially on a sustainable investing front, that Grit would like to share, as a leading pan-African real estate player?
With Africa rapidly urbanising, we are cognisant of our role in transforming the design of buildings and developments for long-term sustainability. Our sustainability efforts focus on energy efficiency and carbon reduction, and we remain committed to a five-year target of a 25% reduction in carbon emissions and a 25% improvement in our building efficiency. We pride ourselves on having achieved more than 40% of women in leadership positions at Grit, and more than 65% localised employees, adding to the Group's diversity.
We will continue to selectively pursue potential investments from our high-quality, diversified and yield accretive pipeline, supported by a strong tenant base and possible co-investment opportunities as we have recently done.
The recent strengthening of our funding relationships with DFIs and banks positions us well to pursue further investment in industrial sector assets, where we see significant opportunity.
Publication: Mauritius International Financial Centre